Watercolour Swirls Free Photoshop Brush Download.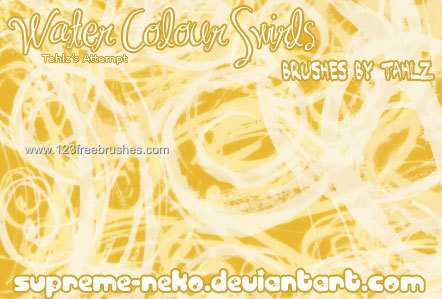 ---
Popular Brushes
Watercolour Swirls. Free Download Adobe Photoshop Free Brushes from category Decorative. Design by tahliadenae. Free Photoshop brush file format available ABR. Photoshop Free brush tagged as Adobe Photoshop Brushes Swirls, decoration, Elegant Swirls, filigree, floral, .
Notes from Designer tahliadenae : After seeing how beautiful melissa's watercolour work was, i wanted to try it for myself but... I'm no where near as good still, here's some watercolour swirlies that i hope you'll enjoy photoshop 7.0 And above. Please remember, brush artists don't receive profit for their brushes yet for all of you we make and upload them anyway. All we ask in return is that you give us credit and seek permission before using them for profit (i.E. Prints). We hope you enjoy our creations, thank you in advance for using them.
---
Related Free Photoshop Brushes