Blood and Weapon Free Photoshop Brush Download.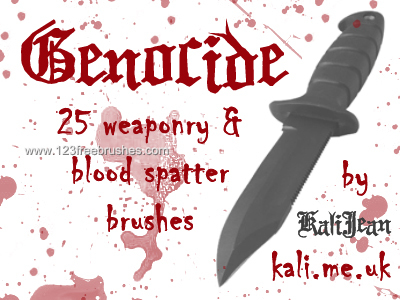 ---
Popular Brushes
Blood and Weapon. Free Download Adobe Photoshop Free Brushes from category Blood Splatter. Design by kalijean. Free Photoshop brush file format available ABR. Photoshop Free brush tagged as Adobe Photoshop Blood Brushes, Bleed, blood, Blood Brush, Blood Brush Download, .
Notes from Designer kalijean : Guns, knives, swords, brass knuckles, bullets, bombs, and other hurty, pointy things. Includes a few blood spatter brushes to complete the effect. These are made in Adobe Photoshop CS, anyone using another version or program can download an mage pack here.
---
Related Free Photoshop Brushes