Dotted Line Frame Free Photoshop Brush Download.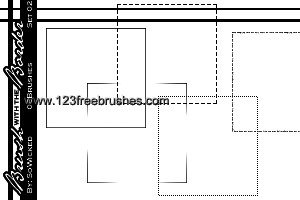 ---
Popular Brushes
Dotted Line Frame. Free Download Adobe Photoshop Free Brushes from category Frames & Border. Design by SoWicked. Free Photoshop brush file format available ABR. Photoshop Free brush tagged as border, corner, dashed line, decoration, Dot, .
Notes from Designer SoWicked : Made With: Adobe Photoshop 7.0 Formated: .abr (now with imagepack!) Made these at the request of a fellow LJer. These are just simple border brushes (5 of them) for your basic 100x100 iconmaking needs. (Helpful Hint: when using them, preset your base to 96x96 px) Please credit [email protected] or [email protected] if you use. Comments would be greatly appreciated if you're taking. Enjoy!
---
Related Free Photoshop Brushes