Grunge Mask Free Photoshop Brush Download.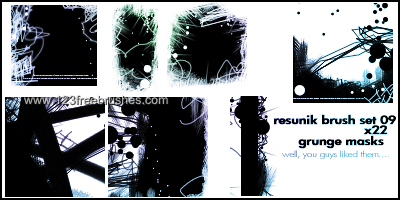 ---
Popular Brushes
Grunge Mask. Free Download Adobe Photoshop Free Brushes from category Grunge & Splatter. Design by resunik. Free Photoshop brush file format available ABR. Photoshop Free brush tagged as destroy, dirty, edge, grunge, grungy, . Photoshop Brush Terms : grunge mask ,
Notes from Designer resunik : Um, yeah. There's just an .abr file, no imagepack.To turn the .abr into a .jbr:Go into a random folder, then, at the top, (File, Edit, View, Favorites, etc) select Tools and then "Folder Options."A box will come up with tabs "General" "View" and "File Type." Select "View" and scroll down the boxes/radio buttons until you come across 'hide extensions for known file types' and UNcheck it. (I suggest keeping this box open so it's easier to change back later.)Then find whatever .abr file you want to be a .jbr, 'rename' it and just change the .abr to a .jbr.
---
Related Free Photoshop Brushes