Hand Drawn Halos and Bits Free Photoshop Brush Download.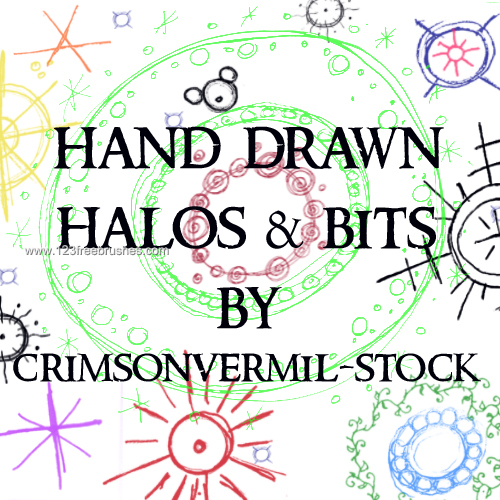 ---
Popular Brushes
Hand Drawn Halos and Bits. Free Download Adobe Photoshop Free Brushes from category Scribbles & Doodles Brushes. Design by crimsonvermil-stock. Free Photoshop brush file format available ABR. Photoshop Free brush tagged as Charcoal, Doodle, Draw, drawing, Freehand, .
Notes from Designer crimsonvermil-stock : I made this brush set in Photoshop 7. These brushes are for Photoshop 7, I don't know if they can be converted/adapted to any other programs, however please feel free to make a set from these in another program. I ask that you A.) post the set made from these brushes on DA, and credit back to this set. I drew the bits and halos in my sketchbook. Then I photographed them with my crappy Nikkon 4600 and uploaded them to my computer. From there I cut them out in photoshop. (Minor contrast/color balance issues) Finally I made each into a brush. There are 26 brushes in this set, not counting the credit brush. This is my second brush set. I hope to have many more. Watch my account for future stock and and tutorials. To make your own brush set for photoshop 7 check out Obsidian Dawn's helpful tutorial: [link] I have a regular art account. Please check it out if you have the time. Link back to this page in your deviant description. Include my icon by writing :icon crimsonvermil-stock: (with no spaces) You may use my stuff in prints. You may use it off site. No hate! Add this to your favs if you download it, assuming it works. Leave me a note if you like it. (It's good for your karma!) Check out my regular account and such if you are happy to have free brushes If you use it off site please note me with a link, I do want to see your website/myspace/ljicons or whatever. Have fun!
---
Related Free Photoshop Brushes