Icon Border Set 6 Free Photoshop Brush Download.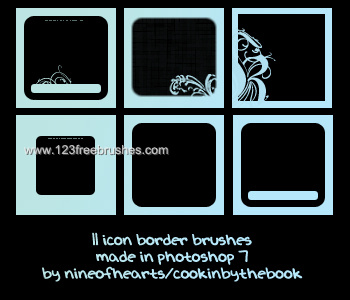 ---
Popular Brushes
Icon Border Set 6. Free Download Adobe Photoshop Free Brushes from category Frames & Border. Design by NineofHearts. Free Photoshop brush file format available ABR. Photoshop Free brush tagged as border, Calligraphic, Calligraphy, corner, decoration, .
Notes from Designer NineofHearts : Just some simple brushes that you can use on 100x100 icons. There aren't very many, and they're all very similar, but I still hope you use them sometime. Made on PS7. Comments please. If you want to credit, either credit me here on DeviantArt or as cookinbythebook on LJ.
---
Related Free Photoshop Brushes