Photoshop Free Tribal Tattoo Set Brushes Free Photoshop Brush Download.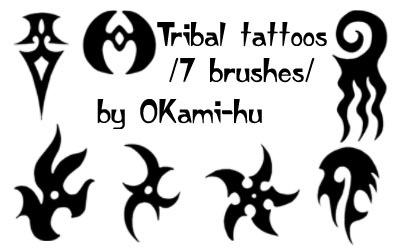 ---
Popular Brushes
Photoshop Free Tribal Tattoo Set Brushes. Free Download Adobe Photoshop Free Brushes from category Tattoo & Tribal. Design by OKami-hu. Free Photoshop brush file format available ABR. Photoshop Free brush tagged as ancient, celtic, decor, decoration, Decorative, .
Notes from Designer OKami-hu : Well, shortly after Deviantart kindly removed my brushsets, I remembered, that once I was trying to draw some tattoos by a sudden inspiration... I searched through my entire room and finally, I found the old sketchbook these were in. So these are MY designs, MY brushsets and if yo steal them, you'll go to HELL. Sorry for the repeat but I love to say these facts. XD The topic this time is more the Nature, than the animals but the pics were done in the same style of course. Let's see. The first one here is the Water. The second is the Fire. Third is Ice, fourth is Shadow (I'm proud of this one!), fifth is Star. The last two are the Three Moons and the Two Moons. Enjoy and don't forget: when you use these, credit me. My icon in the pic's description will do perfectly.
---
Related Free Photoshop Brushes