Sparkle Free Photoshop Brush Download.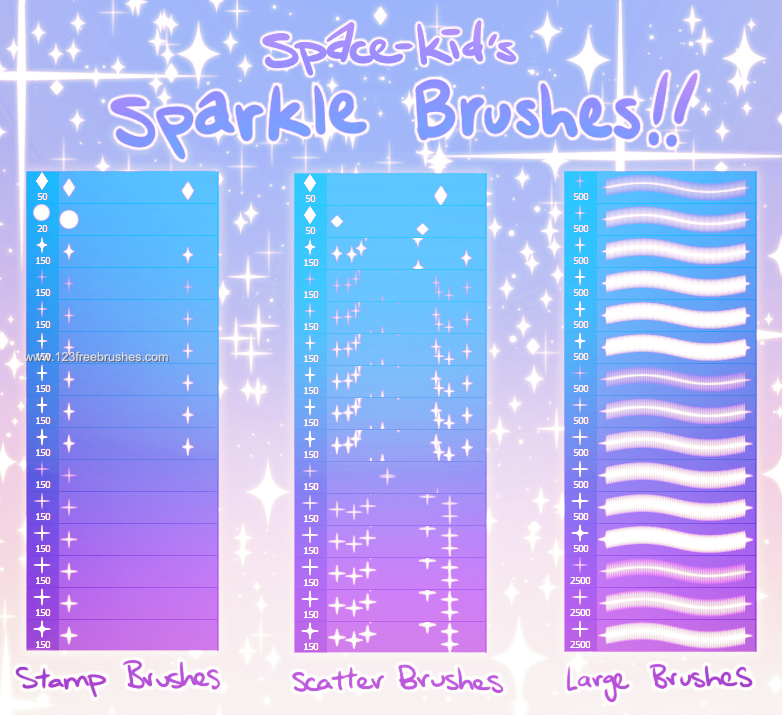 ---
Popular Brushes
Sparkle. Free Download Adobe Photoshop Free Brushes from category Abstract & Fractal. Design by space-kid. Free Photoshop brush file format available ABR. Photoshop Free brush tagged as abstract, Abstract Background Brushes Set, Abstract Brushes For Cs6, Glitter, glow, .
Notes from Designer space-kid : I present to you, my very own sparkle brush pack, free to download and use! With three main categories of brushes already preset with settings, these brushes are ready for use out of the box so you too can paint super sparkly glitter-scapes with ease! - Stamp Brushes make it easy for you to tap individual sparkles without it blurring accidentally. - Scatter Brushes allow you to paint a bunch of stars randomly. - Large Brushes are for those who want super sized sparkles. All the brushes can go up to 2500px for those who work with hi-res canvases. Use however you like; there's no need to credit me, but it would be awesome if you do anyway. Don't sell my brush pack cos it's meant to be FREE. Also don't say you made it, cos you didn't. That's all! Now, make the world SHINE!! -- EDIT: Currently the brushes don't work with CS5 and below (not sure about CS6) since these brushes were created with Photoshop CC, so I'll get that fixed up ASAP and re-up it. Sorry for the hiccup! EDIT 2: Compatibility issues resolved; the brush pack is supported by Photoshop CS2 and above. YAY!! This brush pack is not supported by PaintTool SAI.
---
Related Free Photoshop Brushes