Victorian Romance Free Photoshop Brush Download.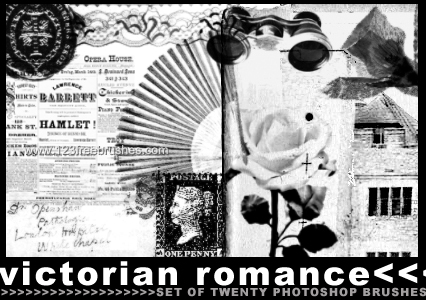 ---
Popular Brushes
Victorian Romance. Free Download Adobe Photoshop Free Brushes from category vintage. Design by Aniar. Free Photoshop brush file format available ABR. Photoshop Free brush tagged as antique, Classic, floral, Flowers, Love, .
Notes from Designer Aniar : I realize that some of these things may not be truly Victorian. I also do not care. And we have.... 1. Castle 2. Rose 3. Orchid 4. Envelope #1 5. Opera Glasses 6. Stamp 7. Envelope #2 8. Opera Playbill 9. Fan 10. Carriage 11. Wax Seal 12. Parasol 13. Lace #1 14. Lace #2 15. Quill Pen w/ Ink Well 16. Love Letter from Robert Browning to Elizabeth Barrett 17. "i remember your saying such a life could never satisfy me, and i was ashamed to admit that it could" - edith wharton from the house of mirth 18. "you gave me my first glimpse of a real life, then you asked me to go on with a false one. no one can endure that" - edith wharton from the age of innocence 19. "love me. but don't tell me so." - edith wharton from hom 20. "don't you see? i can't love you unless i give you up" - edith from age please comment, download, use, link me to the stuff, and credit is nice. ta.
---
Related Free Photoshop Brushes